Bud break is well under way now, some of the earlier varieties are now into juvenile leaf but the later ones are still a few weeks off, the buds on the likes of Franquette, Fernor, Chandler etc haven't even started to swell yet. We're praying we don't get a hard mid May frost like last year which really knocked back the young trees especially.
This year it looks like the trees are at least a week or so early but the frosts at the end of March just slowed things down again.
As the trees get more mature it's very apparent which varieties will be some of the most prolific pollinators as well, Broadview & Jupiter looks especially busy.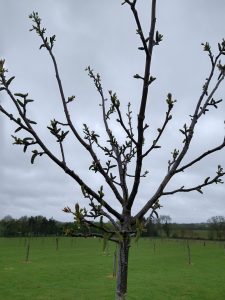 One or two female flowers starting to appear as well although they're no quite receptive yet.
The heartnuts are all in juvenile leaf now, they seem to come into leaf early like the first English Walnuts.